In recent years, Pakistan's mobile tower business has grown at an exponential rate. Pakistan's mobile tower industry is expanding in response to the country's fast growing population and increased demand for telecommunications services.
Because of technical advances, the industry's dependency on grid electricity and Diesel Generators (DGs) has decreased. Growth has resulted in a huge increase in energy demand and electricity usage.
"The mobile tower industry has emerged as Pakistan's largest diesel fuel consumption, using around 1.2 billion litres per year," according to the Alternative Energy Development Board (AEDB).
It is primarily due to the grid's significant instability that it has been necessary to cease offering uninterrupted Telecommunication services.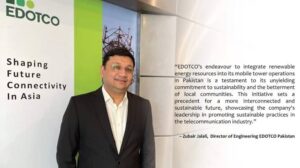 As we all know, the country's electrical system is incredibly unreliable and frequently fails. Furthermore, frequent outages are typical, and people have grown accustomed to them. However, completely relying on grid electricity is problematic and has become exceedingly tough.
The country's energy problem worsens over time, and the government faces major challenges. As a result of the country's energy crisis, mobile tower businesses have historically had to rely on DGs as backup power sources. This is critical for maintaining operational efficiency, but it also results in large carbon emissions.
Furthermore, feasible and sustainable solutions are required to ensure network availability while lowering operating effectiveness and mitigating the consequences of climate change.
EDOTCO, a leading provider of telecommunications infrastructure services, is continuously looking for ways to lessen its reliance on DGs. Furthermore, the corporation intends to investigate alternate energy sources for its mobile tower operations in Pakistan.
The adoption of Lithium Ion Technology in the company's high-capacity battery solution, on the other hand, has greatly reduced diesel generator operations by providing reliable battery backup during grid disruptions.
Furthermore, the corporation is attempting to expand its Solarization footprint by placing solar panels to power its telecom towers.
The primary goal of EDOTCO is to minimise carbon emissions, improve operational efficiency, and provide continuous network availability for cellular users across the country.
In addition to solarizing its towers, the firm is expanding its renewable energy programmes to benefit surrounding houses and mosques whenever technically feasible.
EDOTCO exhibits their commitment to furthering sustainable practises and improving local communities by doing so.
It is critical to minimise carbon emissions in order to mitigate the consequences of climate change and improve the environment. Installing solar telecommunication towers will help to reduce reliance on grid electricity while also saving a significant amount of money that will benefit the sector and the wider economy.
The environmentally friendly practises will also help to save up to 21 million tonnes of diesel fuel every year and cut roughly 56,000 tonnes of carbon emissions.
Furthermore, Pakistan's commitment to the Paris Agreement is to reduce greenhouse gas emissions by roughly 20% by 2030.
In Pakistan, EDOTCO has taken the effort to incorporate renewable energy into its telecommunication tower operations. Furthermore, it will aid in the creation of job opportunities and the development of the local renewable energy industry.
The company has solarized over 200 mobile towers with a total capacity of 2MW as of 2022. By 2025, the company intends to boost its capacity to 5 MW.
In contrast, the corporation intends to minimise carbon emissions by 8,000 tonnes per year.