According to mam-ul-Haq, the national squad would make all effort to win the next series 5-0 in order to move up to the top spot in the ODI standings.
In an interview, the left-hander stated that during this vital ODI season, the players would put the national team's ranking ahead of their own.
Although Babar is now rated first and I am third, our team's standing is poor. To elevate our squad to the top, we want to win this series 5-0, Imam said.
Imam mentioned Pakistan's recent strong play in cricket, winning nine of their previous 12 ODIs, in response to a query.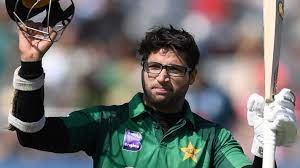 Imam stated that the next ODI series against New Zealand will be vital in helping to prepare the team for Pakistan's two upcoming 50-over major tournaments.
The Men in Green will play a few ODIs before the major event, but the 27-year-old hitter said they will strive to get ready to play tough cricket.
"Performing and playing at the 2023 World Cup in India would be a fantastic experience. The only objective I have for that is to help my team win games, therefore I haven't set any personal ambitions for that," said Imam.
Notably, the talented batsman is a member of the national team for the five-match ODI series against the Kiwis, which gets underway today at the Rawalpindi Cricket Stadium.