ADNOC, a significant oil firm with operations in the United Arab Emirates, intends to open three ADNOC Fill&Go fueling stations powered by AI in Abu Dhabi and Dubai.
The advanced fueling stations of the future are extremely technologically advanced, including computer vision and machine learning. The stations are now able to remember automobiles and provide individualised gasoline services thanks to new sophisticated technologies.
Process
The procedure is really contemporary and useful. The user can visit these gas stations whenever after registering their vehicle on the ADNOC distribution app. The vehicle will be instantly recognised by the cameras.
Also, your information will be immediately saved after you register for the app. and will start refuelling the vehicle using the chosen gasoline type and quantity.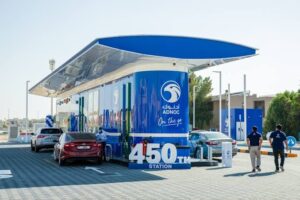 Also, after refuelling the vehicle, consumers will see exclusive offers for ADNOC Oasis stores on the fuel station's digital screen.
Nonetheless, Shaikh Zayed Road in Dubai, Corniche Road, and Al Khalidiya in Abu Dhabi are the current locations of ADNOC Fill&Go.
"ADNOC Fill&Go demonstrates their ambition of implementing innovative technologies to improve the fuelling experience," said CEO Badar Saeed Al Lamki.
Also, the gasoline company intends to soon introduce this cutting-edge service throughout the UAE.
"This Development, which coincides with UAE innovation month, is proof of our continued dedication. To realising cutting-edge concepts as we design satisfying trips for our clients.
The ADNOC flagship service stations also highlight other cutting-edge products, such as solutions for renewable power generating using solar and wind energy.
Therefore, in the United Arab Emirates, ADNOC is the national oil firm. By production, it is the twelfth-newest oil corporation in the world.
With a completely integrated business network for exploration, refining, trading, and petrochemical products, it operates along the whole hydrocarbon value chain.
Yet, using AI-based techniques like digital twins and machine learning.
The predictive maintenance technology from ADNOC is predicted to result in maintenance cost reductions of up to 20% while decreasing unexpected equipment maintenance and increasing reliability.
The predictive maintenance project at ADNOC is a component of the business's digital acceleration strategy.
The primary goal is to integrate cutting-edge digital technologies into all aspects of the business.
ADNOC's zero-emission project was part of the company's solid track record as one of South Africa's top producers of electricity with a lower carbon intensity.
It also makes it possible to implement the first large-scale carbon capture plant in the area.
The business puts in a lot of effort to offer its clients the facilities. By offering a contemporary, high-tech system, the business hopes to make its clients' lives easier.
So, AI-powered will aid people in conserving their energy and final time before coming and waiting in a long line.
The programme will assist citizens in getting the finest outcomes and comfort possible.