The letters of credit (LCs) for all 'unnecessary' imports into Pakistan have been stopped, leaving the country's automakers — both of two- and four-wheeled vehicles — in a deplorable situation.
Pak Suzuki Motor Company (PSMC) has also extended the bike production shutdown by two more weeks, according to a recent PSX announcement.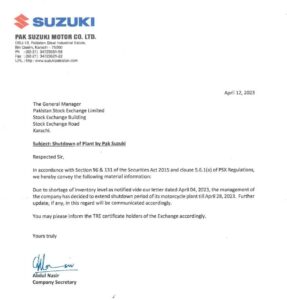 Production initially stopped between March 20 and March 31. The business then revealed a second stoppage from April 4 to 15. According to the most recent notification, the shutdown has been pushed back from April 16 to April 28.
This indicates that Suzuki won't have manufactured a single bike for more than a month by the time the most recent manufacturing pause ends.
Suzuki's bike prices have skyrocketed, with the GD110 S, its most affordable commuting model, reaching Rs. 322,000. The GS150, which costs Rs. 350,000, is next in line.
The bike with the highest price in Suzuki's portfolio is the GR150, which retails for a staggering Rs. 501,000. It is followed by the GSX125, which costs Rs. 469,000.
According to speculation, the most recent production delay will probably also result in a price increase, which might further decrease consumer demand.