The pensions of over 17,000 retired railway workers are being suspended by banks. According to media sources, the decision was made because they didn't provide the necessary paperwork.
A spokeswoman for Pakistan Railways stated that the retired workers were unable to submit the required no-marriage, life, and fingerprint authentication certificates. The representative emphasised that the impacted ex-employees were instructed to submit the required documentation in order for their pensions to be reinstated.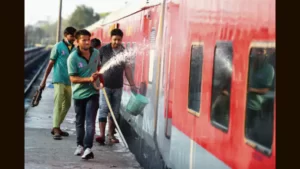 The required paperwork must be delivered twice a year, in March and September, per the State Bank of Pakistan's requirements.
Railway workers protested earlier because their salaries were not paid during Ramadan in March. Particularly, the salaries of the class IV and BC employees of the railways had not been paid.
In response to the Pakistan Railways Employees (PREM) Union's appeal, workers demonstrated in a number of locations around the nation, including the diesel engine shed, the washing line, the railways' headquarters and division offices. The workers asked for their wages to be distributed right away.