Every now and again, WhatsApp updates its desktop and mobile apps, and it's high time the tablet version received some attention. For WhatsApp on tablets, the messaging app is providing a substantial visual update that should aid in multitasking.
WhatsApp for Android now has a dual-panel interface made especially for tablets in the most recent beta version. As usual, WABetaInfo is the source of the news.
This is how it will seem.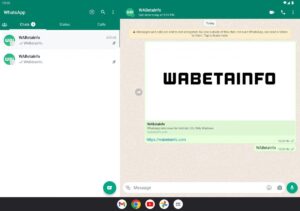 Previously, switching between conversations required users to navigate back to the chat list on the tablet version, which displayed the chat in full-screen mode.
However now that a recent update has been made, the chat list is always available when starting a session. The conversations area benefits more from the split view option, even though it is also available in the calls and status tabs.
The split view makes it easier to transition between discussions without pausing active ones. Also, by enabling users to quickly scroll through the list of chats and find the ones they want without closing the open tab, it improves chat management and organisation.
Before being made available to everyone, such features are typically tested extensively in the beta channel for a number of weeks or months. Hopefully it will soon exit the beta stage.