According to a notice on her Instagram account, Pakistani-American actor and model Saeeda Imtiaz died on Tuesday morning.
According to the account, Saeeda was discovered dead in her chamber. However, no additional information concerning the model's demise was provided.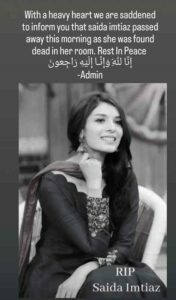 The actress was born in the United Arab Emirates (UAE) on May 24 and raised in New York, USA. Stony Brook University awarded her a bachelor's degree in psychology.
Her film debut was in Kaptaan, a biopic of former Prime Minister Imran Khan. In the film, she played Jemima Goldsmith.
She also signed contracts for two further films, Qulfee with Shahroz Sabzwari and Thori Setting Thora Pyar with Malik Aqeel, both of which have yet to be released.