During interbank trade on Friday, the Pakistani rupee (PKR) surged higher and posted gains against the US dollar, reaching as high as 261 per dollar.
At the close, the rupee had gained 0.59 percent and was trading at 262.82 after gaining Rs. 156 against the US dollar.
The local currency was strong against the US dollar, opening at 264 in the open market. By midday, the dollar had fallen to around 262 against the rupee. Before the interbank close at 1 p.m., the local currency was mostly in the green against the top foreign currency.
Today's gains come as investors anticipate that the coalition government's Finance (supplementary) Bill 2023 will be approved and tabled for implementation by the National Assembly's upcoming session next week. Markets ignored political and economic pressures and backed the local unit, expecting a staff-level agreement with the International Monetary Fund (IMF) any day as the government goes above and beyond its means to implement Rs. 170 billion tax laws as security.
The rupee is still down more than Rs. 28 since its record-breaking single-day drop of Rs. 25 in the last week of January, when the currency was finally 'freed' in the inter-bank market against the US dollar. According to market trends and fiscal developments observed today, the PKR has gained more than Rs. 1 for the fourth time this week.
Money changers see short-term discipline, but say the rest of February-June is critical for understanding PKR trends for the coming fiscal year. Reserves need to be revamped, and it is in the best interests of the country to halt development spending and save the treasury rather than spending it all.
The SBP's foreign currency reserves were $3.192 billion on February 10, up $276 million from $2.916 billion on February 3. Despite the increase, central bank reserves are still at their lowest level since February 2014.
The country's total liquid foreign currency reserves, including net reserves held by banks other than the SBP, stood at $8.702 billion, up $163 million from the previous week. Bank net reserves stood at $5.509 billion, a $114 million decrease from the previous week.
In the interbank market today, the PKR was up against all of the other major currencies. It increased by 42 paisas against the Saudi Riyal (SAR), 42 paisas against the UAE Dirham (AED), 3.2 paisas against the Canadian Dollar (CAD), and 3.4 paisas against the Euro (EUR).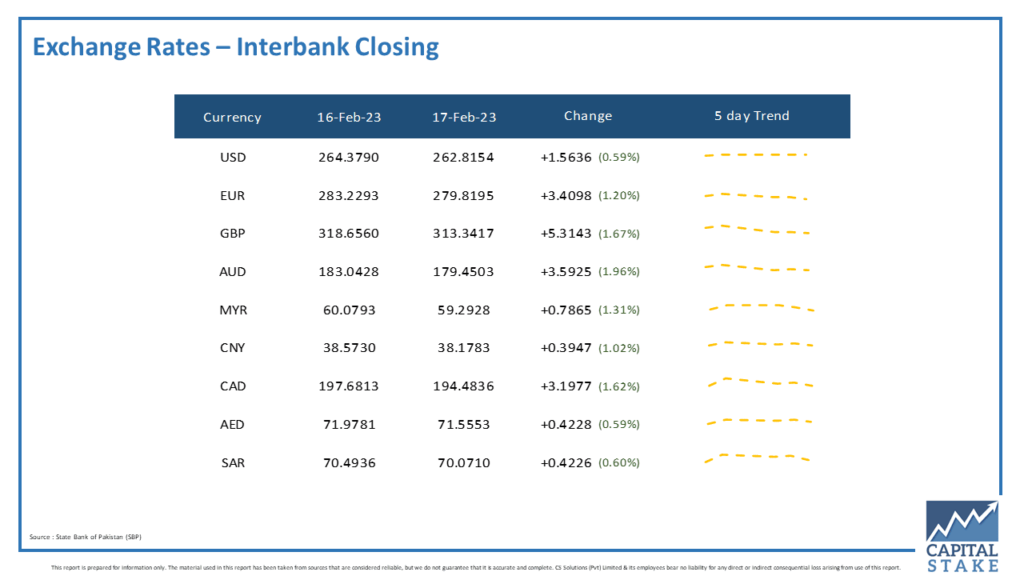 Moreover, it gained Rs. 3.59 against the Australian Dollar (AUD) and Rs. 5.31 against the Pound Sterling (GBP) in today's interbank currency market.