The Pakistani rupee (PKR) strengthened further against the dollar in interbank trade on Thursday, reaching as high as 268 per dollar as technical talks with the International Monetary Fund (IMF) come to an end later this week.
At the close, the rupee had gained 1.04 percent and was trading at 270.51, having gained Rs. 2.82 against the US dollar.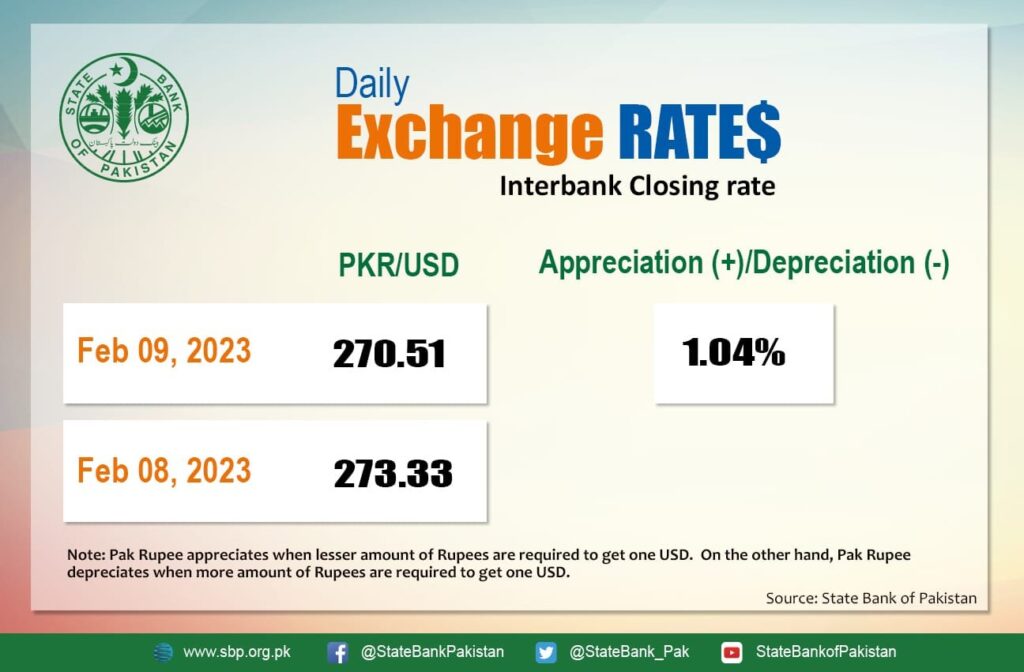 The local currency was all green against the dollar and opened trade at 274. By midday, the dollar had fallen to 267.925 against the rupee. Before the interbank close at 1 PM, the local currency was still strong against the top foreign currency.
Islamabad vibes appear scary but should smoothen out. We know we don't have a choice. We will do whatever it takes to revive IMF. The one-on-one meeting between Dar and Nathan was critical. Storm would subside for a few months.
Today's gains come after markets reacted positively to IMF talks. Finance Minister Ishaq Dar said on Thursday that talks between Pakistan and the lender are "on track" and that "good news will be announced soon. Dar told the media that the two sides' talks had reached a conclusion. Dr. Aisha Ghaus Pasha, Minister of State for Finance, stated earlier on Wednesday that an agreement had been reached with the IMF and that clearance had been obtained at the prime minister level.
The Memorandum of Economic and Financial Policies (MEFP) is expected to be delivered to Pakistani authorities later today.
More details are expected later, and a technical breakthrough could be announced as early as tomorrow morning. This could pave the way for both parties to begin working on a staff-level agreement that would allow Pakistan to access a bailout tranche worth more than $1.1 billion.
Despite today's encouraging gains, the rupee is still down over Rs. 39 since its record-breaking single-day drop of Rs. 25 in the last week of January, when the currency was finally 'freed' in the inter-bank market against the US dollar. According to market trends and fiscal developments observed today, the PKR has gained nearly Rs. 3 for the second consecutive day.
In the interbank market today, the PKR was up against all of the other major currencies. It rose 76 paisas against the Saudi Riyal (SAR), 76 paisas against the UAE Dirham (AED), 2.64 paisas against the Australian Dollar (AUD), 2.78 paisas against the Canadian Dollar (CAD), and 3.41 paisas against the Pound Sterling (GBP).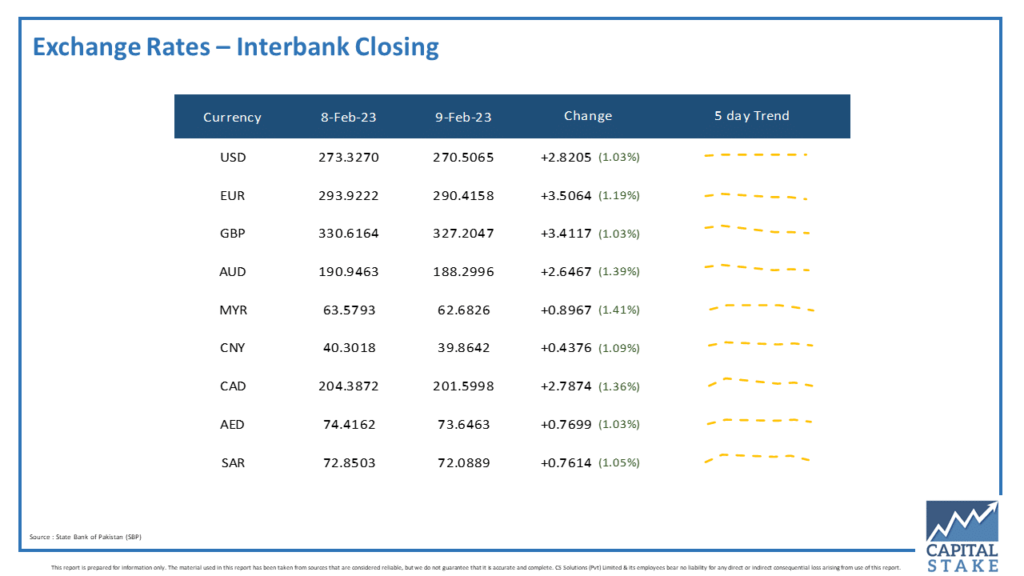 Moreover, it gained Rs. 3.50 against the Euro (EUR) in today's interbank currency market.