During intraday trade today, the Pakistani rupee (PKR) suffered losses vs the US dollar and reversed gains.
The interbank rate first lost 1 rupee before rising to 284.75 by 11 AM, indicating that the Pakistani rupee was generally negative throughout the early intraday session today. It returned to the 283 level by 1:25 PM and remained there.
After losing 13 paisas during today's intraday trade, the PKR lost 0.05 percent of its value at close to close at 283.79 today.
Notwithstanding the Finance Minister Ishaq Dar's statement that China last week extended a $2 billion loan to Pakistan for another year, the rupee suffered losses today.
Since January 2023, the rupee has lost roughly 52 rupees. The PKR has declined today, by 13 paisas, according to currency rate moves seen today.
The SBP's foreign exchange holdings were valued at $4.244 billion as of March 24; this is a $354 million decrease from the 4.599 billion on March 17.
Money changers claim that today's decline shows the lack of confidence among market participants in the South Asian economy's current yield-hunting framework, since no amount of macroeconomic progress offers much hope for the near-term business outlook.
In the interbank market today, the PKR was bearish relative to the majority of the other major currencies. It decreased in value versus the Saudi Riyal (SAR), the UAE Dirham (AED), the Canadian Dollar (CAD), the Pound Sterling (GBP), and the Euro by three paisas, three paisas, 19 paisas, Rs. 1.45, and Rs. 1.59, respectively (EUR).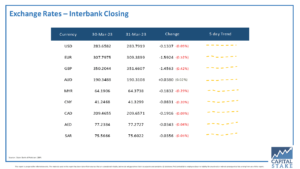 In contrast, it increased three paisas in today's interbank foreign exchange market against the Australian Dollar (AUD).