During intraday exchange today, the Pakistani rupee (PKR), which had already suffered losses against the US dollar, fell even more. Early on in intraday trade today, the Pakistani rupee was primarily bearish, with the interbank rate initially rising by Rs. 2 to hit 280.25 by 11 AM. It fell below 285 by 1:25 PM. The PKR lost Rs. 1.24 during today's intraday trade, falling 0.44 percent at close to end at 285.04.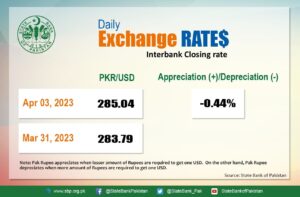 The currency experienced losses today as markets get ready for the State Bank of Pakistan's (SBP) monetary policy review on Tuesday and anticipate another increase of at least 200 basis points. Since January 2023, the rupee has lost roughly Rs 54. It has lost value against the dollar by more than 103 rupees since April 2022.
According to today's exchange rate moves, the PKR has fallen by more than Rs. 1.24 against the dollar. The MPC increased the policy rate by 300 basis points to 20 percent at its most recent meeting on March 2. This is the highest policy rate since October 1996. The choice was made in light of higher inflation results as a result of external and fiscal changes.
In a Topline Research survey, the majority of respondents (92.5%) predicted that the policy rate would rise by at least 100 basis points.
According to currency exchangers, today's decline is a reflection of how the market feels about news that the federal government has begun to review plans put forth by the Forex Association of Pakistan to expand the nation's foreign exchange reserves. Malik Bostan, the president of the Forex Association of Pakistan, presented several ideas to the Senate Standing Committee on Finance and Revenue last week, including giving the government $24 billion over the following 24 months.
One irate trader was furious with the government for considering Bostan's suggestion, which seems to be political and unsupported by a workable macroeconomic plan.
In the interbank market today, the PKR was bearish relative to the majority of the other main currencies. It dropped 46 paisas versus the Australian Dollar (AUD), 33 paisas versus the Saudi Riyal (SAR), 34 paisas versus the UAE Dirham (AED), and Rs. 1.42 versus the Canadian Dollar. (CAD).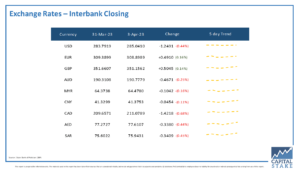 On the other hand, in today's interbank currency market, it earned 49 paisas against the Euro (EUR) and 50 paisas against the Pound Sterling (GBP).