Today, the Pakistani rupee (PKR) made advances against the US dollar and gained further ground.
The intraday trade for the Pakistani rupee today started out in the red, and by 11 AM, the interbank rate had dropped by over 40 paisas to reach 284.125. By 1:25 PM, it had recovered and was holding steady at 283 points.
After gaining six paisas today, the PKR increased by 0.02 percent at closure and stopped moving at 283.82.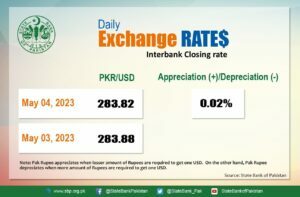 Fresh developments in negotiations with the International Monetary Fund (IMF) drove exchange rate sentiments throughout the day, and the rupee ended the day with gains.
Although there was little to no movement on the currency markets today, dealers reported that investors responded favourably to the lender's ultimatum on additional subsidies without its prior approval.
Despite inflation data predicting significant increases in commodity prices in the coming days, today's marginal gain implies that movement was protected against downsides.
Relevantly, since January 2023, the rupee has lost roughly Rs. 54. It has lost more than Rs. 101 against the US dollar since April 2022. According to today's currency rate fluctuations, the PKR has risen four paisas against the dollar.
In the interbank market today, the PKR performed inconsistently relative to the majority of the other major currencies. It increased by two dirhams (AED) versus the UAE, one riyal (SAR) against Saudi Arabia, and eight paisas (CAD) against Canada.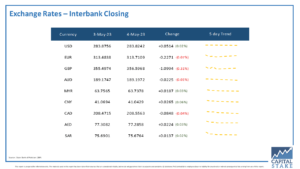 In contrast, in today's interbank foreign exchange market, it lost two paisas against the Australian Dollar (AUD), 22 paisas against the Euro (EUR), and Rs. 1.09 against the Pound Sterling (GBP).