The fourth Twenty20 International match between Pakistan and New Zealand, scheduled for Rawalpindi, may be impacted by rain.
Due to the ongoing rain in the city, both sides were unable to participate in their pre-game practise sessions. Due to heavy rain, the teams were forced to retreat to their hotel rooms.
Rain is predicted to disrupt the play, but fans should be able to see some movement on the pitch, according to the weather forecast. A complete quota of 20 overs appears doubtful, but a limited-overs match can be expected at Rawalpindi Cricket Stadium.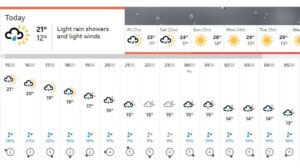 Light rain showers are anticipated in the city at night, with a 7% probability of precipitation during the start of the match, according to BBC Weather. Rain is expected to become more likely around midnight, affecting the match's conclusion.
The fourth T20I is set to begin at 9:00 p.m. The ongoing five-game series has taken an intriguing turn when New Zealand won the third match on Monday at the Gaddafi Stadium in Lahore, cutting the hosts' lead to 2-1.