It is already incredibly difficult for Pakistanis to purchase smartphones due to rising smartphone and dollar prices, and the users' suffering has been made worse by PTA's absurd charge. Offering smartphone customers some respite by allowing them to pay the PTA certification tax over time.
With mid-range phones costing more than Rs 100,000 and flagships costing more than Rs 300,000 and more, retail pricing are out of control, and having to pay for PTA approvals raises the stakes even further.
The public should now have easier access thanks to a recent enhancement. Alfa Mall, the online store operated by Bank Alfalah, now accepts monthly payments based on PTA approvals—but only for specific telephones. These phones include the iPhone 13, the complete iPhone 14 series, the Samsung Galaxy S22 and S22 Ultra, and many others.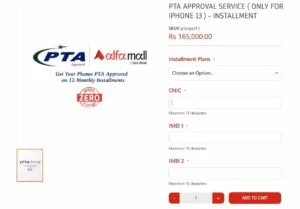 These phones' total PTA charges range from Rs. 130,000 to Rs. 190,000, however they may be paid off with a 0% markup in 3 to 6 months. Simply choose an installment payment schedule, enter your CNIC number and phone's IMEI code, and you're done.
The PTA clearance process may take up to 3-5 business days, it should be noted. Also, the shop will call you to confirm your acceptance.