On the occasion of Eid-ul-Fitr, the All Pakistan Private Schools Federation (APSF) has announced public holidays in all educational institutions throughout the nation.
The four-day Eid-ul-Fitr holidays will be observed by all private schools from April 21 through 24, according to the announcement made by the APSF on Thursday.
The announcement stated, "In accordance with the decision of APSF, all private schools under the administrative control of APPSF shall remain closed from April 21 to April 24."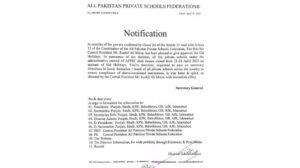 It was announced last week that the Prime Minister, who will ultimately decide, will receive ideas for four to five vacations.
According to a report, holidays would be observed from April 20 to 23 if Eid fell on a Friday; but, if it fell on a Saturday, holidays may be observed from April 20 to 24.
The federal government announced the advance payment of salaries, allowances, and pensions to all active and retired government employees in observance of Eid yesterday.
It is important to note that, according to the Ruet-i-Hilal Research Council, Eid will fall on Saturday across the nation after 30 days of Ramadan fasting.