Pakistan's dollar-denominated fruit exports fell 42 percent in the first nine months of FY 2022-23 and 67.5 percent in March 2023.
Our world-famous king of fruits' exports increased 110% between 2014 and 2021, but climate change and rising temperatures have hampered output.
With 3-8 degree temperature increases in key growing locations, last year's heatwave cut mango production by 50%.
Mango blossoming, which is temperature sensitive, may have caused the higher temperatures. Since March and April temperatures were between 27 and 30 degrees, experts expect a bountiful mango crop this year.
Some mango producers were disturbed at these temperatures, stating they were too low for fruit setting at 34 degrees. Climate change is unpredictable, chaotic change. Climate indicators cannot affect these critical industries for the economy's future.
Pakistan exports 4th and produces 6th most fresh mangoes. According to Agriculture Statistics of Pakistan, mango production and cultivated area have dropped or remained flat during the last decade.
2021-22 Production was 1.84 million tonnes, down from 1.88 million tonnes in 2010-11.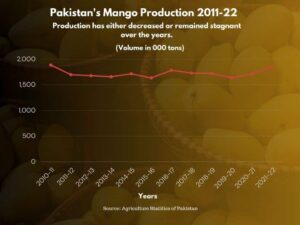 The department hasn't updated last year's data, but the stats show how climate change and global warming have prevented growers from reaching the industry's full potential.
Pakistan's fruit production is plagued by a lack of a cold chain for processing and storage, roads, quality seeds, unregulated nurseries spreading disease pathogens, nutrition and pest management awareness, and water shortages.
Climate change has exacerbated these. Mango fruit setting requires temperate temperatures, while most domestic cultivars sunburn in high temps, according to Mango Research Institute, Multan studies.
Allotting state-owned property to small landholders can help tropical fruit production in hot locations. The Land Reforms of 1959, 1972, and 1977 increased horticulture exports.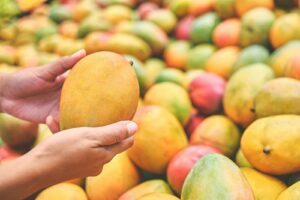 "The government should invest heavily in temperature-resilient cultivar research and development, including through public-private partnerships. Muhammad Ali Iqbal from Isb-based Agritech firm Concave Agri said, "Government needs to study weather patterns to address this issue."
Most weather inquiries are expensive, so few farmers can afford them. "Economically accurate area-specific updates require micro-scale weather stations," he said.
Modern digital methods should be used to quickly distribute agriculture extension and farm advice services, especially when climate indicators change unexpectedly, so farmers can act.
Uncertified nurseries fail to safeguard germplasm from infections that spread owing to higher temperatures and humidity. These nurseries need government oversight and plant material handling training.
Due to declining water resources, farmers have been aggressively pumping groundwater to relieve plants from temperature stress, but the groundwater is largely unsuited for agronomic use in these places with variable salt levels, producing further growth challenges.
The International Trade Centre (ITC), Ministry of Commerce, Trade Development Authority Pakistan (TDAP), All Pakistan Fruit & Vegetable Exporters, Importers & Merchants Association, and others collaborated on the Pakistan Fruits and Vegetables Export Strategy (2023-27).
According to this, Pakistan's vital ally China is the world's largest mango importer, but Thailand supplies 80% of its need due to our inconsistent fruit quality. Recently, Pakistani and Chinese stakeholders have begun cooperating more, but the results have been disappointing.
The document also suggested investing in the sector to meet China's quality and SPS standards, strengthening officials' trade negotiation skills through dialogue with the private sector, building Fruits and Vegetable Model Training Farms, and introducing and developing international market-demanded varieties instead of just traditional cultivars.
TDAP is piloting a mango bagging project on two dozen farms in Multan and Sindh's Mango Belt. TDAP imports paper for bagging, one of many regulatory criteria to reach high-end Western markets.
To enhance the supply chain and improve produce quality, public and private sector entities must do more, especially with climate change.