In Pakistan's Lahore, Pak Star Automobile(Pvt) Ltd is well known for its vehicle parts. The Metro T9 EV was unveiled by Pak Automobiles, which is best known for producing Tez Raftar motorcycles and rickshaws.
To enter the growing EV industry, the business launched the first electric scooter in Pakistan. The "Tez Raftar" brand is used to identify a variety of motorbikes (2-wheeled vehicles) and auto-rickshaws (3-wheeled vehicles) made by the company.
Even so, the business has a lot of experience in the auto sector. Despite the fact that the company is young, its skilled, educated, and well-seasoned team members are continually working hard to ensure its success.
Pak Star Automobiles also manufactures a number of sheet-metal fabricated and forged automobile parts and components that meet high standards of quality around the world.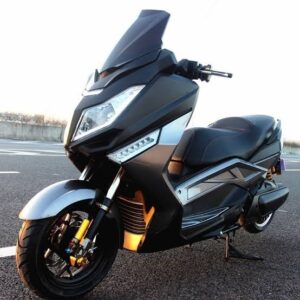 The business also assembles gasoline internal combustion engines for autos with displacements of 97cc, 84cc, 72cc, and 107cc.
The Metro T9 EV is also the company's first of several electric scooters introduced in Pakistan.
The Metro EVs official website states that four other electric models will be released soon by the company. Metro M6, E8S Pro, KS3 Lite, and LY are the four models.
Metro T9 Electric Scooter.
The new Metro T9 Electric Scooter, according to the manufacturer, is powered by a 600-watt electric motor and has a battery with a life cycle of 1,000 charges, or roughly 3–4 years.
A new Metro T9 EV can also go 105 km on a single charge, charging only takes 4 to 5 hours, and uses 2.5 units of electricity.
Also, the manufacturer asserts that before replacing the battery, a user can save up to 2,000 gallons of gasoline, or Rs 544,000, in 3 to 4 years.
 Top Speed.
Although the corporation keeps the speed a secret, the feature is really impressive and suggests that the top speed will be offered. The anticipated speed is between 40 and 45 km/h.
Specifications.
The Metro T9 is the most advanced, high-tech electric motorcycle available, offering great speed and contemporary amenities.
Here are some details on the brand-new Metro T9 EV motorcycle:
1,000 maximum charging cycles
4.5 hours charging time s60V 38aH 60W electric motor powered by TTFAR graphene battery
2.5 electricity units per 105 km
tubes-free tyres
High-Strength CAE-Optimized Frame in Swedish Paint
Metro T9 Electric Scooter Price In Pakistan.
The Metro T9 electric motorcycle manufacturer announced a price of Rs 245,000, which is the beginning pricing. There is little doubt that the cost will rise soon.
In order to help the consumer, the motorcycle also has an 18-month warranty.
As a result of the fast rising demand for EVs in Pakistan, which is well known, automakers work hard to manufacture high-quality electric vehicles at competitive rates.
The first-ever made-in-Pakistan electric scooter, the EVEE, was been unveiled by a Pakistani firm called Evee Electric.