Prince Fahab Bin Mansoor of Saudi Arabia intended to spend $100 million in Pakistan's ICT sector. He stated on Monday that the project's goal is to develop chances through collaborations with Pakistani information technology (IT) firms.
The goal of the programme, which was first announced in January 2023, is to make doing business between the two nations easier.
The Saudi IT business is owned by Prince Fahad, who also helped develop ILSA interactive. a business established in 2009 by Pakistani entrepreneur Salman Nasir with locations in Riyadh and Lahore.
In addition, the organisation symbolises the determination of both Saudi and Pakistani authorities to strengthening their current strategic collaboration in all domains.
The fundamental objective is to unite the two nations on a single stage. to establish collaborations with academic institutions, IT firms, and large businesses in Pakistan.
The ceremony was held on Monday, March 6, and Prince Fahad's main objectives were to carry out 300 projects worth $100 million in Saudi Arabia, Pakistan, and other nations, as well as to create more than 1,000 jobs.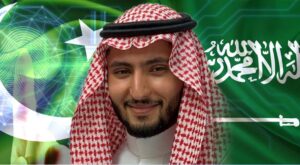 A delegation of Saudi business leaders did, however, attend Future Fest 2023, which drew well-known businesspeople, startups, policymakers, and investors from all around the world.
Also, they take part in roundtable conferences, keynote lectures, and conversations on a range of issues related to startups and the future of business.
The joint venture is a component of Saudi Arabia's strategic plan, Vision 2030. This aims to lessen the country's reliance on oil. To establish it as a global investment powerhouse with cutting-edge digital infrastructure.
to fulfil the objective, which calls for the creation of new cities. $500 billion is estimated to have been mobilised by Saudi Arabia.
Prince Fahad announced the opening of the Saudi Pakistani Tech House during the opening ceremony of the Saudi Arabian Tech House in Islamabad.
Our project in Pakistan will serve as a platform for greater cooperation and development in this partnership.
The project "added a new level of collaboration and strengthened the two nations' long-standing strategic relationship," he further noted.
While disclosing his objectives, he said, "I would want to reiterate that we are looking forward to creating more than 1000 employment in Pakistan. In the upcoming five years, we anticipate that there will be more than 300 projects with a minimum budget of $100 million.
But, he was pleased and expressed his confidence in Pakistan's startup community and labour force to forge a partnership that would radically impact the IT sectors of both countries.
"I look forward to seeing Pakistani entrepreneurs and tech businesses further deepen our two countries' partnerships," he continued.
Saudi Arabia wants to have a Saudi Tech House in each area, from the east to the west, in accordance with Saudi Vision 2030.
The Saudi ambassador, Nawaf Bin Said Al-Maliki, expressed his joy at taking part in the Saudi-Pakistani Tech House opening ceremony.
The prime minister's special assistant for youth issues, Shaza Fatima Khuwaja, praised the Saudi Prince's initiative to modernise the country.