Approximately 829,549 emigrants were registered with the Bureau of Immigration and Overseas Employment (BE&OE) for foreign employment in 2022, according to Syed Agha Rafiullah, Parliamentary Secretary for Overseas Pakistanis and Human Resource Development, who spoke to the National Assembly on Wednesday. The number of registered immigrants is at its greatest level in the previous five years.
The data reveals that many graduates and other Pakistanis went to other nations in the most recent year, 2022, in search of better employment possibilities.
Syed Agha Rafiullah stated that 12.45 million Pakistani workers had registered with BE&OE for employment since 1971 in response to queries posed by the news.
However, he added that "due to COVID limits, only 224,705 and 286,648 emigrants, respectively, were registered by BE&OE in 2020 and 2021, indicating a downward trend.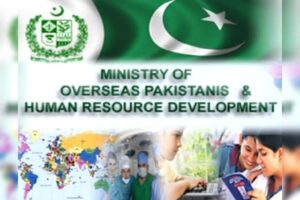 In addition, he added, "BE&OE has taken many initiatives to seek and penetrate the worldwide labour markets for intended emigrants."
For Pakistanis, things have become challenging due to rising inflation and increasing living expenses.
Pakistanis make these options since there aren't many work possibilities for young people and no hope of a company boom.
To refocus on new labour markets, a diversification strategy was used.
Furthermore, Germany is soon to sign the declaration of intent on migration and mobility, which has already been done with Greece and the UK.
12 memoranda of understanding (MoUs) on the export of human resources with other nations, according to Syed Agha Rafiullah.
There were bilateral discussions going on on Denmark, Germany, Greece, Kuwait, Italy, Iran, and Romania.
Rafiullah claimed that in order to find new employment prospects for Pakistani workers, the government has appointed 24 community welfare attaches in 16 other nations.
This will enable competent Pakistanis to use their abilities more effectively.
On the other side, there were roughly 9 million Pakistanis employed abroad.
They are carrying out various tasks and advancing the socioeconomic situation of the nation.
Nonetheless, there still needs to be a specific process for offering any help or finding a fix for safeguarding their properties.
The Ministry/OPF has agreed to pass a measure that will safeguard Pakistanis living abroad with regard to their property in order to remedy the problem.
All of the regular staff members of OPF's schools and colleges, however, received the government's minimum wage.
Employees covered by the contract, on the other hand, received a remuneration in accordance with the terms and circumstances of the employment agreements' rules and guidelines.
Additionally, he stated that "some contract employees' pay was still below the minimum salaries set by the Federal government.
Also, upon renewal of their annual contracts, contractual staff received up to a 10% annual raise.