Enaam Ahmed, a go-karting master from Pakistan, has made history by breaking a significant mark. Enaam is the first-ever Pakistani-born world winner in karting, according to information.
He broke the marks held by Lewis Hamilton and Max Verstappen, two of the most well-known and successful Formula One (F1) racers.
Enaam also broke Ayrton Senna's record of 13 races in a single season by winning the British Formula 3 championship and Pakistan's first high-level Formula title.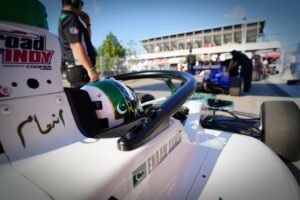 Enaam is a young prodigy in motorsport who has been establishing records and winning championships since the age of 14. Enaam is the most famous Pakistani-origin racer in the annals of motorsport as the most successful British Formula 3 driver.
In a conversation with Geo News, Enaam stressed:
I earned five championships in a single year when I was 14 years old. The European Championship for go-karting is one of the two most significant ones. Lewis Hamilton had won when he was 15 years old, whereas I had won when I was 14 years old. I won the British Formula 3 Championship at the age of 17, breaking Ayrton Senna's mark and becoming the first Pakistani to ever win a major motorsports championship.
The youthful racer exclaimed that he was honoured to surpass the accomplishments of legendary F1 figures like Lewis Hamilton and Ayrton Senna. He continued by saying that wearing the Pakistani flag on his racewear made him even more pleased to do so.
Enaam spoke of his intentions as follows: I intend to complete this year's campaign and compete in the Indianapolis 500 the following year, becoming the first Pakistani to do so. I'll then put my sights on competing in Formula 1.