On Wednesday, the Pakistani gold price reached an all-time high.
The All-Pakistan Sarafa Gems and Jewellers Association (APSGJA) reported that gold (24 carats) rose by Rs. 9,900 per tola to Rs. 240,000 and 10 grammes rose by Rs. 8,487 to Rs. 205,761.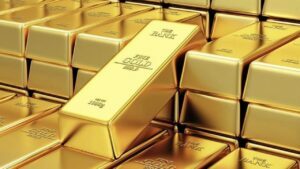 After Imran Khan's incarceration, political turmoil soared, pushing gold prices to record highs.
Gold rose Rs. 4,600 per tola in the first two days of the week, climbing Rs. 1,400 on Monday and Rs. 3,200 on Tuesday.
Gold prices rose every day last week until Friday, when they fell Rs. 300 per tola. The weekly increment was Rs. 6,000 per tola.
After weakening 1.9 percent in the inter-bank market today, the Pakistani rupee hit a record low of Rs. 290.22 against the US dollar.