Now, up to four phones can utilise the same WhatsApp account. A user can use the same WhatsApp account simultaneously on up to four devices thanks to WhatsApp's new "Multi-Device" functionality.
"Starting today, you can log in to the same WhatsApp account on Up to four phones," Mark Zuckerberg wrote in his announcement of the function.
While a long-standing feature called Multi-Device only allowed users to access WhatsApp from browsers, laptops, or Android tablets in addition to the main phone, it has become a standard function.
Users may now login in to up to four other phones, though. "One WhatsApp account, now across multiple phones" is the newest cutting-edge high-tech feature. The feature is currently being sent out to users across the globe and will be accessible to everyone in the coming weeks.
Up to four devices can be connected to WhatsApp using the same account.
WhatsApp has taken the step to make it easier for major organisations and business users to communicate across many devices.
Those who use many phones and want the same WhatsApp account on each one will find it useful.
Therefore, allowing numerous employees to receive and send messages from the same number on separate phones is a useful feature for organisations and small enterprises.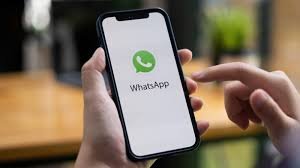 Since each phone connects separately, the messages will be synced across all phones for up to a year after this update. Additionally, even if your primary phone is turned off, you can still access your messages.
In contrast, end-to-end encryption will be used for every chat, media file, audio message, and call. Additionally, WhatsApp will automatically log you out of all additional devices or companion phones if the primary device is dormant for an extended length of time.
How does it function?
The user can now tap on a new "link to existing account" function instead of going through the setup procedure, entering your phone number, and logging in during setup. You will receive a QR code later that may be scanned by your main phone in the settings under "link a device." You'll sign in to the other device as well later.
Additionally, instead of scanning a QR code to allow device linking on a user's phone, a user can now enter their phone number on the WhatsApp web page to receive a one-time code.
On both Android and iOS devices, you must update WhatsApp to the most recent version in order to use the function. It's vital to remember that in order to use this feature, WhatsApp must be updated on both the companion and primary phones.
Additionally, the capability is accessible to iOS and Android users. The function has been made available everywhere.