A new smartphone app called "NCC Bio Verify" has been released by the National Clearing Corporation of Pakistan (NCCPL) to make biometric verification easier.
Using their smartphones, investors may do biometric authentication utilising this new cutting-edge programme. No matter where you are, in a city or a village, you can utilise the app.
But, users of Android and Apple devices can get the software via the Google Playstore and the Apple Playstore, respectively.
One of the modifications to the current customer onboarding procedure is the most recent seamless API connection with the National Database and Registration Authority (NADRA) for CNIC verification and with RAAST for IBAN verification.
Consequently, instead of having to wait two to three hours, the consumer will receive the One Time Password (OTP) in a matter of minutes thanks to contemporary technology.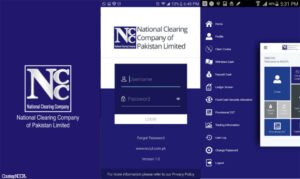 NCCPL claims that by facilitating and supplying increased mobility and convenience to its priceless, valuable consumers, the effort will improve the onboarding process for capital market participants.
The most recent technology also makes the process of opening an account for investors more simplified and effective, thereby enhancing Pakistan's capital market environment.
For investors in the capital market, NCCPL has taken the effort to improve and streamline the online account opening process.
Also, the main goals of this project are to boost the impact of technical advancements and improve the investor experience in business.
As a result, NCCPL is happy to announce the introduction of a new technology that will allow investors in the capital markets to access information in a user-friendly fashion with a graphical presentation.
Users can access their registration information, summary and in-depth trading data, CHT information, and other National Custodial Service (NCS) actions.
Using this application, investors can examine all pertinent data on their tablets and mobile devices.
Apple customers can now open an account quickly thanks to the successful launch of the Android market application.
By maintaining transparency, the new app will help its devoted users by providing them with the information they need the fastest.
The NCCPL's chief information officer, Mr. Shafiq Ur Rehman, stated that this is another another step in boosting investor confidence in the capital market.
Additionally, he added that effective technology utilisation will improve the market and help draw in new investors, increasing liquidity.