A recent tweet by Pakistani speedster Naseem Shah sparked discussion on social media about the cricketer's engagement or marriage. Shah gained notoriety as a result of his impressive exploits at the Asia Cup 2022 and has been in the news ever since for various reasons.
Naseem Shah clarifies marriage-related allegations. A few days ago, the 20-year-old paceman posted a photo to his Instagram stories in which he appeared to be seated in a drawing room with his father and another elderly man. In contrast to his father and the other males, Shah was dressed in a black t-shirt with a prayer cap on his head.
"Blessed with the best Alhamdullah," the cricketer had written as the caption for the photo. The context and description of the image gave online users the impression that Shah might be getting married or engaged.
The young paceman clarified the situation, stating that the earlier post "wasn't about getting engaged or nikahfied," in a new Instagram story. Naseem Shah clarifies marriage-related allegations.
Shah stated in the Instagram story that "mentioning 'blessed' doesn't mean that its all about getting into [a] relationship or anything." As it is the holy month of Ramadan, he explained that the photo was taken at a straightforward iftar meeting with his family. He also urged people to stop misinterpreting and expressed the hope that everything was now obvious.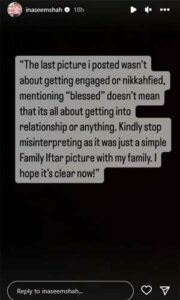 It should be mentioned that Naseem's father stated last year that the young man had no intention of getting married for the next four to five years when asked about the young man's marriage plans. It goes without saying that everyone has been awed by Naseem Shah, a skilled quick bowler from Pakistan.
He was just named honorary DSP for the Quetta Police. Since the T20 World Cup in Australia began last year, the right-arm pacer's T20 economy has only been 6.06. Even more astounding is the fact that the sprinter only allows runs to be scored at a rate of 6.56 overs per innings during the last 16 overs of the innings.