In the previous two years, Pakistan had 611,000 instances of tuberculosis (TB), with 48,000 HIV-negative and 2,100 HIV-positive people contracting the illness, according to Dr. Sharaf Ali Shah, vice chair of End TB Pakistan. But only around half of TB cases were actually documented.
Dr. Shah listed a number of contributing issues, such as a lack of knowledge of TB symptoms, misconceptions about the accessibility of anti-TB medications at public healthcare facilities, ignorance of where one may get care, the cost of transportation, and loss of daily income.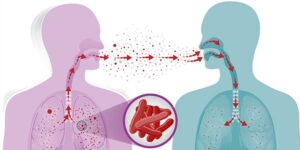 The provincial TB advisor for the Centers for Disease Control and Prevention (CDC) Sindh, Dr. Afshan Isani, emphasised the relationship between TB and HIV infections, noting that people with HIV are more susceptible to developing TB.
He added that Pakistan experiences an annual increase in the number of new HIV infections.
In the meantime, Dr. Salim Kazmi, senior technical adviser at the CDC, stated that new developments, like reducing the length of treatment for sensitive TB, are being embraced as part of global efforts to eradicate TB.
Senior consultant for Stop TB Pakistan, Dr. Karam Shah, stressed the importance of involving decision-makers at the district, provincial, and federal levels in order to make TB a health priority, allot sufficient domestic resources, and foster political commitment.
He continued by stating that only 8% of the $47 million in funding for tuberculosis in Pakistan would come from domestic sources in 2021, with the balance 92 % coming from international donors. Due to the nation's reliance on foreign funding, Dr. Shah expressed worries about the viability of tuberculosis control initiatives.