A new upgrade for Microsoft Teams has been published with the goal of enhancing the usability and dependability of virtual backdrops. Green screen technology, which was introduced in March 2023, is part of the update.
Without the need of any additional hardware or software, the method is intended to improve the accuracy and clarity of virtual backgrounds and blur effects. Further details on how the tool would function and how it will improve Microsoft Teams calls have just been released by the firm.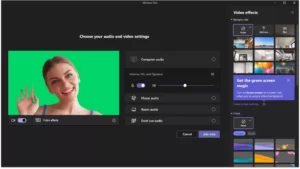 In a blog post on the Microsoft Tech Forum, Jan Steberl detailed how the green screen, which is now in public preview, might provide a better virtual background effect.
He observed:
Your face, head, ears, and hair's virtual background effect are sharper and more defined when using a green screen. Also, it enables you to make an item in your hand visible to the other attendees of the conference by displaying it.
Uses for It
Users must have an unblemished, flat background wall or solid-colored screen behind them in order to use this feature. Users must also take attention while selecting the colour of the background in order for the blur effect or background to look accurately and with a professional-grade finish.
According to Steberl, users must first apply a backdrop effect in a Teams meeting before turning on the green screen effect. You must do this by selecting "Video effects > Green Screen Options" in the Backgrounds area of the meeting toolbar by clicking the "More" icon. Moreover, under Teams settings -> Devices -> Green screen, the feature is toggleable.
Steberl issued a warning that turning on the green screen function will also turn off Together Mode and backdrop blur. It is compatible with a number of Presenter mode choices, though, including PowerPoint Live Standout, backdrop replacement (JPEG/PNG), Side-by-Side and Reporter, and Standout.
Microsoft Teams' green screen capability is currently only supported on Windows and macOS computers with Intel or AMD processors. Unfortunately, the capability cannot presently be used on Apple Macs with M1/M2 hardware.