On Monday, May 1, 2023, Jenna Ortega brought her Wednesday Addams spirit to the Met Gala red carpet.
The young actress came to pay tribute to the late, iconic, longtime Chanel fashion designer Karl Lagerfeld on the steps of the Metropolitan Museum of Art. Her appearance reflected her preferred gothcore style.
The exclusive charity event's theme this year was "Karl Lagerfeld: A Line of Beauty," which is why many participants wore outfits in the designer's characteristic colours of black and white.
According to Vogue, Thom Browne's high-fashion Victoriana ensemble for Ortega included a waist-cinching lace-up corset that fit the actor like a glove, as well as preppy accents like sheer black knee-high socks, black-and-white patent heeled brogues, and the dramatic silhouette of the skirt that erupted into ruffles and swept behind her along the cream-colored carpet.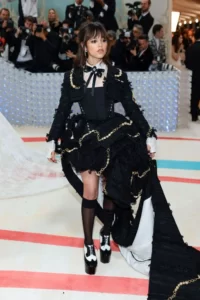 The 20-year-old actress has previously been photographed wearing a gothic style. The Scream actress spoke to the publication last month about her admiration for goth culture.
She added, "I've always respected goth culture." Although I've always had a darker sense of humour, I never felt comfortable expressing it. These days, I feel like I can value such things about myself.
The actress acknowledged that her Wednesday role appeared to have influenced her normal approach. She admitted in a recent interview with InStyle that she believes "Wednesday affected my taste a lot. I find it difficult to remove her from me, at least in terms of clothing.
It's also something I've always wanted to do, she continued. I simply never thought I could. There seemed to be a lot of voices and perspectives that I used to give too much weight.