Ishaq Dar, the finance minister, has postponed his trip to the United States to meet with the World Bank and International Monetary Fund (IMF) for next week.
Dar has made the decision to withdraw from the World Bank-IMF spring meetings, which are slated to take place in Washington from April 10 to 16. Dar cites "domestic state of affairs" as the basis for the withdrawal.
The trip to Washington has been postponed due to the nation's growing political unrest. Dar had been intended to speak next week about issues such as the continuity of the government, upcoming economic plans, and overcoming the trust gap with multilateral lenders. It seems unlikely that he will be successful in doing that.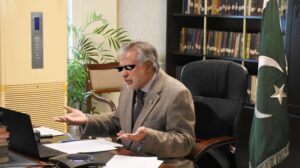 By default, Sardar Ayaz Sadiq, minister of economic affairs, won't visit America either. Kazim Niaz and Hamed Yaqoob Sheikh, the government's economic affairs and finance secretaries, will represent the government at the WB-IMF spring meetings.
Relevantly, the UK state minister for development and the Saudi Arabian finance minister's scheduled meetings could both be cancelled as a result of the finance minister's decision to leave.
Dar was supposed to see Nathan Porter, the head of the IMF's mission in Pakistan, on the first day of his trip. The conference was crucial because once the government decided to announce petrol subsidies, negotiations between Pakistan and the IMF had ceased.
Dar was due to meet with representatives from the three international credit rating agencies that have downgraded Pakistan in addition to the IMF and WB. Meetings with foreign commercial banks were also organised by the finance ministry in an effort to convince them to issue loans.
The Pakistan team may yet get to meet with Antoinette Sayeh, the IMF's deputy managing director, who keeps a close eye on Pakistan. Whether or not a meeting with Managing Director Kristalina Georgieva would take place is uncertain. According to some accounts, diplomatic protocol rules prohibit low-ranking dignitaries from meeting presidents, directors, and other executives of major multilateral organisations as well as finance ministers from different nations.