With uncertainty over a crucial bailout from the International Monetary Fund (IMF) and the most recent rating from Moody's undermined the fundamentals of the exchange rate, the Pakistani rupee (PKR) plunged to its lowest level ever against the US dollar during intraday trade today.
The interbank rate lost Rs. 12 during the first two hours of intraday trading today, falling as low as Rs. 278 at 11 AM. It lost Rs. 19 and crashed at 285 by 11:25 AM.
At the time of closing, the rupee was trading at 285.09 against the dollar, down 6.66 percent, or Rs. 18.98, from yesterday's finish of 266.11.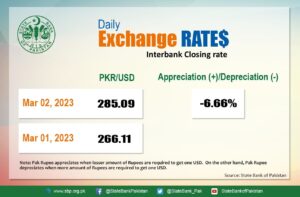 After opening at 277, open market rates for the dollar reached highs of 288 to 290 across several currency counters. For the time being, money changers have halted the outflow of dollars, a merchant briefly told ProPakistani today.
Topline Securities CEO Muhammad Sohail noted that the IMF funding delay is causing anxiety in the currency market in response to the sharp depreciation of the PKR.
The impact of Moody's most recent junk classification of Pakistan's local and foreign currency issuer and senior unsecured debt ratings to Caa3 from Caa1 caused the Pakistani rupee (PKR) to decline by almost 7 percent against the dollar during intraday trade on Thursday, falling as low as 285 against the dollar.
Compared to the lows of 271-274 per US dollar last week, the domestic currency has plunged by about 6% on the open market, reaching a record low of 290 per US dollar. Since Monday of last week, the rupee has decreased by 9.2 percent.
A H H Soomro, a free-lance analyst, stated, "I believe they're seeking to raise SBP reserves and honour outstanding import payments. Thus, the cap-control may have been removed in favour of an exchange rate set by the market.
Since its record-breaking single-day plunge of Rs. 25 in the final week of January, the rupee has lost over Rs. 52 and has since steadily limited minor losses despite economic pressure. The PKR has lost Rs. 19 today, its largest decline since the currency's all-time low dip of Rs. 24.54 in January, according to exchange rate moves seen today.
The local currency will probably lose a lot of value as a result of the IMF charges, import problems, and credit rating downgrades. No one can forecast how low the currency may sink given the free-float model.
In today's interbank market, the PKR was in the red relative to every other significant currency. It suffered losses versus the Saudi Riyal (SAR), the UAE Dirham (AED), the Australian Dollar (AUD), the Canadian Dollar (CAD), and the Euro of Rs. 5.05, Rs. 5.16, Rs. 11.84, Rs. 13.56, and Rs. 20. (EUR).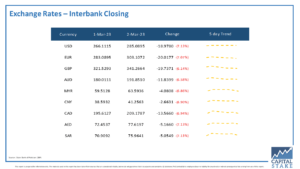 Also, in today's interbank currency market, it dropped versus the Pound Sterling (GBP) by Rs. 19.73.