The interior ministry ordered the Pakistan Telecommunication Authority (PTA) to disable mobile broadband and social media after Imran Khan's arrest.
YouTube, Twitter, Facebook, and other prominent social media platforms also experienced nationwide interruptions.
After Imran Khan's arrest on Tuesday, social media showed clips of violence in different parts of the country, prompting mobile broadband connections to be blocked.
Twitter, Facebook, and YouTube were blocked, making people more upset.
"When social media aired clips of unwarranted episodes in different parts of the country, Twitter and YouTube started witnessing disruptions around 8 pm in other regions," sources said.
According to Downdetector.com, individuals needed help logging into all three major social media platforms. This prevented news feed posting and viewing.
Independent journalists, bloggers, and vloggers also reported the social media disruption. After the prime minister's dramatic arrest went viral, paramilitary forces grabbed Mr. Khan and took him to an armoured vehicle.
Later, PTI's Twitter handles published the footage and called on supporters to oppose the Rangers' action.
Smartphone users often complain about WhatsApp's desktop and mobile incompatibility. However, many nationwide consumers could get faster internet.
After nationwide protests in support of party head Imran Khan's arrest in Al-Qadir Trust, social media platforms and internet speeds were unusually suspended.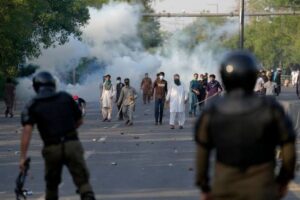 According to Islamabad police, Mr. Khan and his wife's Al-Qadir trust paid millions and billions for Bharia Town land.
Rangers arrested PTI Chairman and former prime minister on Tuesday. From Islamabad High Court (IHC): acting on NAB warrant.
PTI workers protest in Islamabad, Lahore, Rawalpindi, Karachi, Gujranwala, Faisalabad, Multan, Peshawar, and Mardan.
Karachi protesters fought police near the nursery. They stoned and burned police cars. They also destroyed streetlights and a bus.
In many cities, protesters vandalised public property.