Apple's first-quarter financial results, which above analysts' predictions, have been announced. The Cupertino behemoth earned $94.8 billion in revenue between January and March 2023, a 3% decline from the $97.2 billion earned the year before.
During the first quarter of the year, Apple sold more iPhones than ever before, and its services, such as the App Store, Apple Music, Apple Pay, and iCloud, also had record-breaking growth.
Despite the company's overall revenue declining, the fall is mostly the result of reduced sales of Macs and iPads. Happily, the business saw a gain in iPhone revenue, which reached $51.3 billion and represented a 2% year-over-year growth.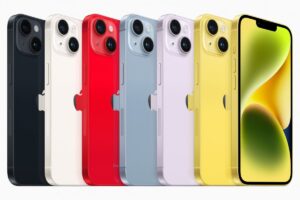 Additionally, Apple's iPhone sales increased by double year over year in some developed and developing nations, including Turkey, Indonesia, and India.
In 2022, Apple's services have amassed a remarkable 975 million paid subscribers, a considerable rise of 150 million over the previous year's data. Now exceeding 2 billion, the number of installed active devices shows constant rise.
Apple CEO Tim Cook emphasised the company's dedication to long-term investments during the announcement. This includes significant efforts to achieve carbon neutrality in both supply chains and goods by 2030.
Of Apple's $28.6 billion operating cash flow, $23 billion was given to stockholders. Notably, the quarterly dividend has increased for the eleventh year in a row, further demonstrating Apple's dedication to its investors.
It is unknown how the upcoming introduction of new MacBooks by the phone manufacturer will affect the business's financial position.