Ushna Shah, a Pakistani actor who was recently criticised on social media for saying that she would not "bully or ostracise" anyone out of concern for the serious consequences such actions may have on those who are being treated in this way while referring to co-actor Feroze Khan, returned to social media to defend her position.
The Habs starlet's remark garnered a lot of criticism because Khan had received harsh criticism on social media as a result of claims that his wife had abused him.
Ushna posted a thoughtful and in-depth message on Instagram on Saturday outlining her position on the issue.
"In solidarity with a woman whose father was killed by a prominent corporation during Ramadan, I took a stand against them. I defended a friend who was wrongfully put into custody."
The late TV show presenter Aamir Liaquat, who in the months before his passing earned excessive celebrity for a number of provocative utterances and was later criticised on social media, serves as the basis for the star's argument.
Ushna gave the following illustration in her essay: "I've urged people not to abuse an ex-colleague who allegedly wronged a woman, to the point where we might lose him like we lost Amir Liaquat- I've urged people not go to the other end of extreme from which there is no turning back, for I have seen what social media does; the punishment of stealing may be chopping hands, we tend to chop heads."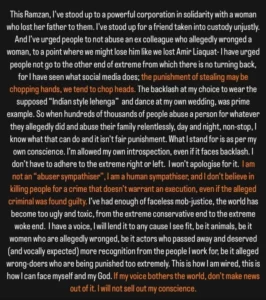 She continued by making reference to the abuse and trolls she had personally experienced during her own wedding ceremony at the end of February.
"The criticism I received when I decided to dance at my own wedding while wearing the purported "Indian style lehenga" was a good example.
"Thus, she said, "I know what it can do and it isn't fair punishment when hundreds of thousands of people abuse a person for whatever they allegedly did and abuse their family constantly, day and night, non-stop."
But, in response to how her earlier remarks on the Feroze Khan incident had been perceived, she maintained her freedom to express her own viewpoint and stated that she did not support either "extreme right or left."
"I stand for what my conscience tells me to. I'm permitted to reflect on myself, despite potential negative reactions. I'm not required to follow either the extreme right or left. I'm not going to apologise. I don't believe in killing people for a crime that doesn't deserve an execution, even if the alleged culprit was found guilty. I am not a "abuser sympathiser," I am a human sympathiser."
Ushna emphasised the effects of cyberbullying and excessive trolling while reiterating that even those who had been purportedly found guilty should not be subjected to harsh punishment if the offence did not warrant it.
The world has become too vicious and toxic, from the extreme conservative end to the extreme woke end, and I've had enough of faceless mob justice. I have a voice, and I will use it to advocate for any cause that interests me, whether it concerns animals, women who are purportedly being mistreated, actors who have passed away and merited (and vocally expected) more recognition from the people I work for, or alleged wrongdoers who are receiving overly harsh punishment.
I can only face myself and my God in this way because of the way I am wired. Do not create news out of the fact that my voice annoys the globe. I won't compromise my morals.