Azam Khan, the batter who serves as the wicket-keeper, has received harsh criticism for his dismal performance in the T20I series against Afghanistan, and concerns have been raised about his level of fitness.
Azam Khan's fitness trainer Shehzar Mohammad, a first-class cricketer, has defended the wicket-keeper, claiming it is unfair to attack him for his physique.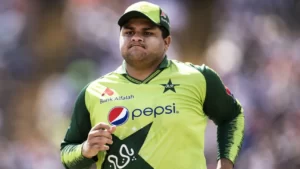 Azam's heavyweight has given him the added advantage of being able to generate power to smash clean shots, according to Shehzar, who lamented the fact that he does not appear to be your ordinary athlete.
"You enjoy Azam's sixes, his strike rate, and his ability to quickly take control of the game. Shehzar remarked that Azam Khan's might and bulk were to blame for everything.
The Islamabad United wicketkeeper can drop weight, the 31-year-old continued, but "he can lose power in case of substantial weight reduction."
Do not judge him based on his two subpar performances. Against the strongest spinners, he had the highest strike rate. You must give him room to grow. Azam is capable of winning games for you and is mature.