The persistent economic problems are having a negative impact on the car industry. Honda recently made the terrible decision to halt vehicle production for more than 20 days.
The long-term stoppage is attributed, according to the official notification, to a disturbance in the supply chain resulting from the economy's degradation, a s well as limits on raw . material and CKD imports.
Here are the specifics: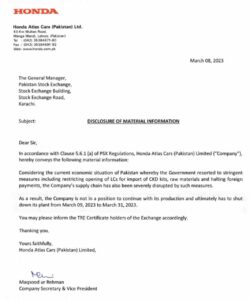 Due to import limitations, the auto sector has been experiencing production reductions and supply delays since July 2022. Several automakers even offered customers to cancel their bookings and obtain full refunds with a markup.
The auto industry is also facing the effects of the Rupee devaluation because of its reliance on imports. Imports are being delayed and inventory rates are rising as a result of restrictions on Letters of Credit (LC) by the State Bank of Pakistan (SBP).