Even though 2023 has been a turbulent year for the regional auto industry, automakers are working to modernise their goods and services to keep a foothold.
A unique in-car internet package has recently been made available to consumers by Honda Atlas Cars Limited (HACL). The "In-car Wi-Fi Subscription Service" allegedly includes a 4G internet bundle with monthly and yearly membership options. The offer's specifics are as follows:
A yearly subscription cost of Rs. 9,999 gets you 120 GB of data.
10 GB of data for Rs. 833 per month in membership fees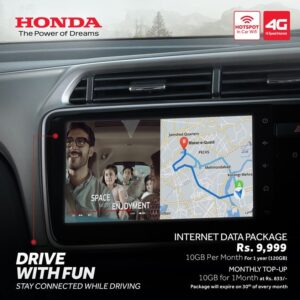 Honda Atlas just extended the closure of the manufacturing facility until May 15. Price increases were attributed by the company to supply chain disruption, inventory shortages brought on by LC restrictions, and the current economic crisis.
Honda's production stoppage was originally scheduled to last from March 9 until March 31. But it extended the closure from April 1 to April 15. The following notice informed readers that this shutdown would last from April 16 to April 30.
The most recent notification announced an additional extension of the May 1–15 production shutdown. This suggests that Honda's plant will be closed for a total of two months by the end of the most recent production pause.
Honda's sales and manufacturing have already suffered greatly this year. The continued operational difficulties are probably going to make things worse.