Due to the letter of credit (LC) problem that is consuming the entire industry, Honda Atlas Cars Limited (HACL) is in a terrible situation.
Honda Atlas recently announced that the production halt would last a further 15 days. According to a formal announcement: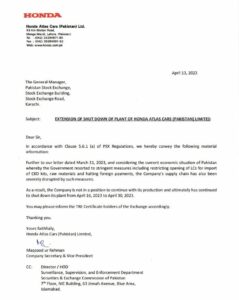 The production outage for the Honda Atlas was scheduled to last until March 31. However, the business extended the suspension from April 1 to April 15 earlier this month. According to the most recent notice, this suspension will run from April 16 through April 30.
According to this, Honda will have stopped down car production in Pakistan for close to two months.
Honda's sales and revenue will probably be severely impacted by this. Sales for the corporation, which are typically its top performers, the City and HR-V, had already dropped significantly in March.
Additionally, it is unheard of for a manufacturer to fail to sell a single Civic in Pakistan. The most recent production halt suggests lower sales for the upcoming month.