As the leading cryptocurrency maintained its surge, which has seen its value than double since the start of the new year, Bitcoin (BTC) crossed $30,000 for the first time since June 2022.
The overall crypto market is also exhibiting signs of life, with a market cap of $1.24 trillion, up 4.32 percent in the previous day, representing the industry as a whole. More than $49 billion worth of cryptocurrencies have been moved in the last day, with BTC accounting for 47% of the market volume, according to CoinMarketCap.
According to TradingView, the most valuable cryptocurrency by market capitalization is currently trading at $30,075 but its growth may stall as trading days draw to a close.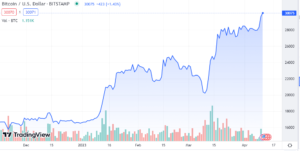 Bitcoin's current recovery can be attributed in part to speculators pouring money into the cryptocurrency market in the hope that future inflation data will cause the US Federal Reserve to postpone its rate hikes. Additionally, Bloomberg claims that the cryptocurrency's current decreased trading volume may be boosting the price increase.
Evidently, the significant break above $30,000 that Bitcoin made earlier today has sparked a positive wave throughout the market. Ethereum, the second-most valued digital asset, is currently trading at $1,918.87, up 6% in the past day.
The eighth-largest digital asset, Dogecoin, which saw a price increase last week as a result of Elon Musk's whims on social media, is up 2.4 percent today and is currently trading at $0.085.
Over $16,600 per coin was the value of BTC at the beginning of the year. Despite the crypto industry's never-ending regulatory problems and investor aversion to risky investments, it has once more made a comeback and is currently up more than 80%.
Before the asset reaches its all-time high of $69,044 in November 2021, there is still a long way to go.