From March 1 and March 12, the Metro Bus Service at 9th Avenue in Islamabad will temporarily cease operations in order to facilitate the seamless transportation of Pakistan Super League (PSL) teams from the Serena Hotel to the Rawalpindi Cricket Stadium (RCS) and back.
This suspension will only apply while the team is on the move, and service will resume right away. After reviewing the PSL match security precautions, the authorities decided to halt the Metro bus service.
The Metro Bus Service will be suspended on days when there are games, according to the timetable made public by the authorities. In the absence of a match, the service will not be interrupted. The full suspension schedule for Metro buses is provided below: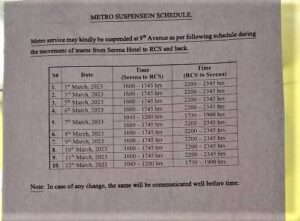 The disruption this temporary stoppage has caused is felt by commuters. The public has been informed by the authorities that measures have been taken to guarantee the protection of teams.