Following the Government of Pakistan's hike in the Federal Excise Duty (FED) in February 2023, the illicit volume in the tobacco business has skyrocketed.
In a media briefing, Pakistan Tobacco Company representatives stated that sales volumes for March '23 have entirely flipped, with real industry sales standing at 1.84 billion sticks in March as opposed to 4.84 billion sticks in January '23 (pre-mini budget).
Similarly, unlawful volume has increased dramatically from 2.85 billion sticks in January '23 to 4.8 billion sticks in March '23.
This demonstrates a movement of 3 billion sticks from the official to the illicit sectors, depriving the government of crucial money at a difficult time, they explained.
They went on to say that before the mini-budget in February, the excise on a pack of Tier 1 cigarettes was Rs. 130, but it was raised to Rs. 330 in the mini-budget, a 154% rise.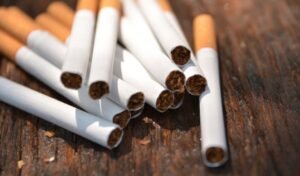 Similarly, the excise charge on a pack of Tier 2 cigarettes was raised from Rs. 41 to Rs. 101, a 146% rise.
Despite the significant increases in both levels, the Retail Price Threshold was only raised by 35% to Rs. 9,000 per 1,000 cigarettes.
This has resulted in an uncommon anomaly, and a dead zone for every cigarette pack priced between Rs 180 and Rs 330.
According to the representatives, PTC's contribution to the national exchequer between July '21 and March '22 was Rs. 85 billion, whereas revenue collected during the same period this year shows a meagre increase of only 14% to Rs. 97 billion, despite an excise increase of more than 200% in both tiers since June 2022.
Such policies are inhibiting investment and endangering Pakistan's Large-Scale Manufacturing (LSM) sector, they say.
PTC representatives also warned that such government actions are not long-term sustainable for the LSM sector and will have a negative impact on the economy.
The availability of smuggled cigarettes at low prices has increased dramatically across the country, causing price-conscious consumers to turn to cheaper smuggled illicit smokes.
They revealed that sales of illegal cigarettes increased by 30% in March.
According to them, more than 100 brands have flooded the market with no graphical health warnings and do not comply with Pakistani legislation. Furthermore, they sell with impunity, flouting all government rules without fear of getting discovered.
They recommended that enforcement agencies maintain a firm grip on the illicit sector in order to bridge the widening gap between the legitimate and criminal sectors.
A nationwide enforcement campaign to stop the spread of illegal cigarettes must be consistent and not sporadic to ensure the right results for the already troubled economy, they added. Track and trace implementation continues to be the silver lining, but only if it is carried out in full letter and spirit.