A few days earlier, the Pakistani company ever, which makes electric bicycles, declared that it will once again accept reservations on April 10 for its latest batch of C1 models. It revealed yesterday that the new lot will also include a brand-new model called the C1 Pro.
As suggested by the name, the new model has some advantages over the C1, including a better battery that allows for a longer range and a new colour choice.
The new variant, according to the firm, has a battery pack made of graphene. This battery's electrodes are made of graphene, which improves conductivity and enables quicker charge and recharge cycles. Existing batteries' efficiency can be enhanced by graphene.
Additionally, the updated version adds the colour Space Grey to the Midnight Blue, Ruby Red, and Ivory White options. 1,200 watts is the same as before for the motor capability.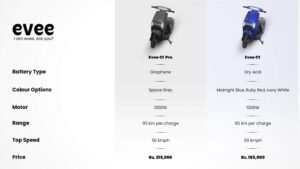 While the top speed remains the same, the range has considerably increased with the new battery from 65 km in the base variant to 95 km.
Naturally, a new price tag also comes with an improved range and a new colour choice. The Evee C1 Pro is Rs. 30,000 more expensive than the base model at Rs. 215,000, but it is still considerably less expensive than several entry-level commuter bikes with lesser features.
Evee is expected to see an increase in sales as a result of this addition to its two-wheeler lineup.