Pakistani women will still adhere to the prior rules even though Saudi Arabia now permits women to undertake the Hajj without a mahram.
According to a spokesman of the Ministry of Religious Affairs, Pakistan's Hajj preparations for this year have been set up using the previous system. As a result, Pakistani women would not be able to benefit from the new Hajj policy that allows women to travel alone.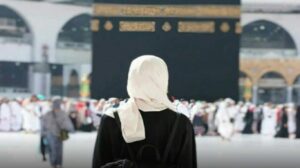 According to the spokesperson, the previous rule mandating that women perform the Hajj with a mahram has been accepted and will be put into effect.
However, the spokesperson noted that Pakistani women won't be significantly impacted by this choice because they typically prefer to perform Hajj with their families. Furthermore, under the previous system, Shia women were only allowed to perform the Hajj under certain restrictions without a mahram, whereas Sunni women were allowed to do so with a mahram.