Vehicle owners who have fallen behind on their token tax payments are the target of a raid by the Punjab Excise and Taxation Department.
A passenger bus that owing Rs. 76,000 in token tax had its driver and conductor flee, according to a recent Lahore report, leaving the bus stranded on a road.
Later, Excise Inspector Farooq, who took matters into his own hands and drove the bus to the police station, moved the bus to a nearby police station.
The incident was confirmed, and an excise department spokeswoman said the director general had ordered all excise workers in the province to work hard and draw motivation from Inspector Farooq's proactive efforts.
In addition, the DG has given the department instructions to expedite the recovery of property tax and highway tax and to make sure that the yearly revenue collection targets are met.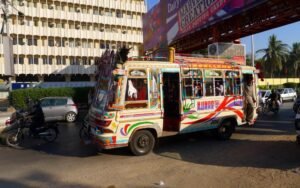 TThe government's attempts to boost tax compliance in the province and increase revenue collection are included in this crackdown. Such stringent regulations are anticipated to motivate people to pay their bills on time and support local development.