Jennie Kim of Blackpink created history by headlining Coachella alongside Rosé, Lisa, and Jisoo, and she is now accomplishing a new milestone by going to her first Met Gala. The Chanel ambassador, affectionately known as "human Chanel" by her followers, came at the Met Gala honouring the late Karl Lagerfeld, creative director of the fashion business. Jennie was dressed entirely in Chanel, sporting a vintage white minidress from Chanel that was embellished with a white rose. She accessorised with heels and black stockings.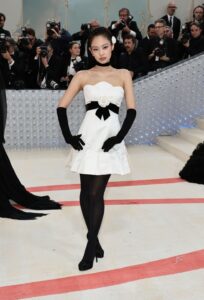 One of Jennie's most successful years in her career is currently underway. She will appear in the long-delayed series The Idol alongside Lily-Rose Depp and The Weeknd in addition to her work with Blackpink. The programme will have its world premiere in Cannes.
For the December 2022/January 2023 issue of ELLE, Jennie discussed how she manages her stress in the midst of all the changes in her professional life. Having my close friends and family close by, as well as trying to balance my job and personal lives, has been very essential to me over the past few years, she said. "I think that's when everything starts collapsing once you get caught up in one life, if that's not balanced," the speaker said. Since there is always something going on, I don't think there is one thing in particular that could help me relax, but I do try to maintain a positive attitude and take care of my physical and mental health.I read, stretch, meditate, and sleep.
She also admitted that even she had no idea what it would be like to make her acting debut in an American television series. The issue is that it was obviously not planned, she continued. Since I already played a variety of roles as an artist, I've always dreamed of acting in the future and wondered what it would be like. But the chance just came to me one day so naturally. And I simply knew that if I passed up the opportunity, I would regret it.