Bella Hadid, a supermodel, condemned the Israeli invasion of Gaza and the police raid on the Al-Aqsa Mosque during the holy month of Ramadan.
She posted screenshots of news articles regarding the Israeli onslaught on Instagram.
"Are you even aware of how little Gaza is? This occurs more frequently than not. Disgusting and disappointing," she said.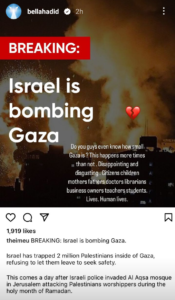 Israel's Prime Minister declared that his country will "extract a heavy price from our enemies" as it attacked Gaza-area sites.
In retaliation, rockets and anti-ballistic missiles were launched from Gaza, setting off sirens in several Israeli towns and cities that border the strip.
After Israeli police twice invaded the Al-Aqsa Mosque in Jerusalem's Old City on Wednesday, the new round of rioting broke out.