WhatsApp is always looking for new ways to improve its software. The primary goal is to make users—corporate or private—more comfortable.
As we all know, WhatsApp Voice calls function like conventional calls in many regions of the world. Nonetheless, these calls are more bothersome than a normal chat. As a result, WhatsApp has plans to improve its voice calling features.
A "new audio chat" option that potentially resemble Discord voice conversations is being added by the corporation.
Version 2.23.7.12 of the beta version of WhatsApp An updated audio call interface is activated by WABetaInfo.
The usual call button in a conversation's top app menu has been replaced by a waveform logo. A menu with the choices to open an audio chat and join a call group displays when you tap it.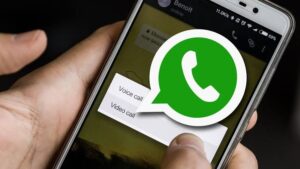 WABetaInfo introduced an incomplete user interface (UI) for the new calling option even though the capability isn't yet in use.
Also, as was already observed, the bar expands when you attempt to start an audio chat to make room for a single end-call button at the top. Furthermore, it is anticipated that once the option is operational, more alternatives will be added to it.
The feature's current arrangement gives opportunity for speculation even if the business has not provided much information about it.
It is also anticipated that the new function would be used as a covert method of entering and exiting group conversations with friends and coworkers. Similar to voice chats on Twitter, Spaces, Slack, Huddles, or Discord.
Furthermore, WhatsApp's naming scheme hints that it will operate similarly to the aforementioned options, particularly Discord.
So, the call group option's continued availability proves that this will function. In fact, customers will have a wonderful experience with the new audio chat feature because their phones won't ring constantly until another user joins.
The business claims that they have immediate plans to make it available to the general public. However, it's not a given that it will ever materialise. The Company may yet decide to terminate it prior to making a formal announcement.
Moreover, Meta recently released a new WhatsApp software for Windows users that functions considerably more quickly and is very comparable to the mobile app.
Group video calls can be held with up to eight people at once on the fastest platform. Also, it allows voice calls between up to 32 persons.
The IT giant is always looking for ways to improve things, like quick device connection and faster device syncing with new features like stickers and link previews.
The platform now hosts WhatsApp's official conversation, where users can access the most recent app information. The app will include updates and how-to manuals for both Android and iOS users.
The chat window appears with a green badge and offers a thorough tutorial on how to use the app as well as details on recent updates and new features.
The verified badges will demonstrate that the conversation is authentic, assisting in preventing fraud and scams that mimic the official WhatsApp account.