Intel paid $1.5 billion in Q1 dividends despite a 36% revenue reduction and a four-cent loss per share.
Analysts speculated that Intel would decrease data centre and client computing budgets after reporting a 36% revenue drop. Intel announced a new layoff round, confirming these rumours.
In addition to this layoff confirmation, Intel earlier this year slashed pay and missed incentives for key executives and employees.
Intel said it is conducting "function-specific workforce reductions" to cut costs and boost efficiency.
Intel, along with other chip designers and manufacturers, is struggling due to a severe semiconductor industry downturn.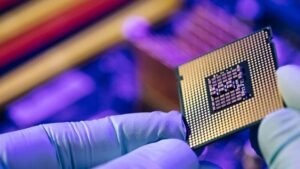 Intel announced a 36% sales reduction and a 4 cents per share loss in its first quarter report.
Despite the huge revenue decline, the corporation paid out $1.5 billion in Q1 dividends, equal to last year.
After TSMC took stolen the top spot, Intel appears to be striving to reclaim it. Intel also aims to open new US factories.
After downsizing its employees, can the corporation execute its big expansion plans?