The Android version of Google's auto-archive feature, which enables you to delete inactive apps from a device without destroying user data, is now generally available. Without requiring you to delete any of your apps, this new option is analogous to Apple's Offload Unwanted Apps feature on iOS and can free up roughly 60% of an app's storage space.
Even better, since this feature is automatic, you won't need to go through and clean out all of your storage when you run out of room. Still, before eliminating anything, the feature will request your consent.
Google has said that only apps that have been published in the App Bundle format are eligible for the new app archiving capability.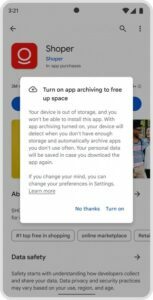 Users will be prompted to accept the auto-archive feature when trying to download an app from the Play Store while their device is running out of storage. The device will be able to archive unused apps in order to free up storage after you accept the terms.
Apps can still be accessed from the home screen and app drawer even after they have been archived; they just have a cloud icon overtop. If you want to utilise an archived app, you can do so by tapping on its icon. This will re-download the app's files and enable you to use it as normal.
Also, you can change your app archiving choices at any moment by going to Settings. Google doesn't specify which Android versions the functionality will be compatible with, but we assume that it won't work with earlier versions.