A total of 238 cartons containing over 2,380,000 sticks of non-duty-paid/counterfeit cigarettes from various brands have been seized by the Directorate of Intelligence and Investigation, Inland Revenue, Islamabad.
The operation was carried out in accordance with the national campaign against the smuggling of counterfeit and non-duty-paid cigarettes under the direction of Lawyer Nowsherwan Khan, Director I&I-IR.
The stock of contraband cigarettes was discovered by the tobacco squad of I&I-IR Islamabad, led by Suhail Abbas, Deputy Director of I&I-IR Islamabad. In response to this tip, the tobacco squad searched a godown that was close to Rawalpindi's highly populated Pandora neighbourhood.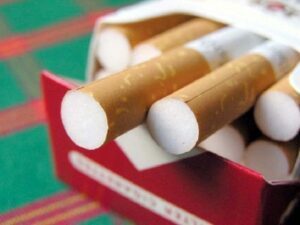 The crew was able to seize 2,380,000 sticks of counterfeit or unpaid duty cigarettes packaged in cartons of locally produced brands from Behram Ali, who was unable to provide any documentation proving the payment of duty and taxes on the items in question. The aforementioned commodities were also discovered to be tax-stamp-free during on-the-spot inspection.
The products in question have been held for further examination in accordance with the Federal Excise Act, 2005, r/w Rule 63 of the FE Regulations, 2005, in the absence of any valid documentation of the payment of duties and taxes.